Pine - Year 1
Class Teacher: Miss Megson
Intervention Teacher: Mr Tatham
Teaching Assistant: Miss Walton
Teaching Assistant: Mrs Myers
General notices
Home work will be given out each Friday alternating between Maths and Literacy.
Spellings will also be sent home on a Friday and the children will be tested on the following Wednesday.
PE is on a Wednesday afternoon and we provide shorts and t-shirt. Trainers and outdoor clothing may be required if PE is outdoors.
The Great Fire of London
This term our topic is 'The Great Fire of London'. During the topic, we will be learning about what happened in the event and creating pieces of artwork linked to it. We will also be looking at tudor houses and how they are different from homes today.
Keep an eye out for the pictures coming soon...
Shelters
Over the first two weeks of term our topic was 'Shelters'. We looked at different materials that were suitable for shelters and tested them. In literacy, we based our writing on the story of 'The Three Little Pigs' and carried out role play activities linked to the text. If you would like to share the story with your child please click here. Taken from www.tes.com
During the fortnight, we went on a trip to the Centre for Life. We tested differed materials that would be suitable for making a tent. We had lots of fun and even made our own felt to bring home with us!
Also during our shelters topic, we went on a scavenger hunt around the school to collect natural materials to build a home for a hedgehog! We had to follow a map of the school to find and complete the clues.
Welcome back!
We hope you have all had a wonderful Summer! The children have settled in really well in Year 1 and looked extremely smart on their first day.
Information for 2016-2017 Class
Carnival of Animals
This term our topic is Carnival of Animals based on the music composed by Camille Saint-Saens. We are very lucky to have Mrs Kendrick come in every Tuesday and teach us music. Already, we have learnt about rhythm and the pulse to pieces of music!
This week we have been looking at the section of the composition called the 'Aviary'. Follow the link below to listen to it!
https://www.youtube.com/watch?v=gOuHfhXz-eE
The piece of music inspired us to make environmentally friendly bird feeders! We used bagels, peanut butter and seeds to create the bird feeders.
France
Also in the Spring term we looked at the topic France. We researched different tourist attractions such as the Eiffel tower and Disneyland Paris. To end our topic we visited Newcastle airport and learnt about how we would get to the country!
Famous for more than 5 minutes!
In the Spring term we learnt about famous monarchs and medics. We started by learning about Queen Elizabeth I and Queen Elizabeth II.
Did you know that our Queen has two birthdays?
We enjoyed recreating some of Queen Elizabeth II's jewellery using different materials such as pasta, paint, beads, glitter and glue.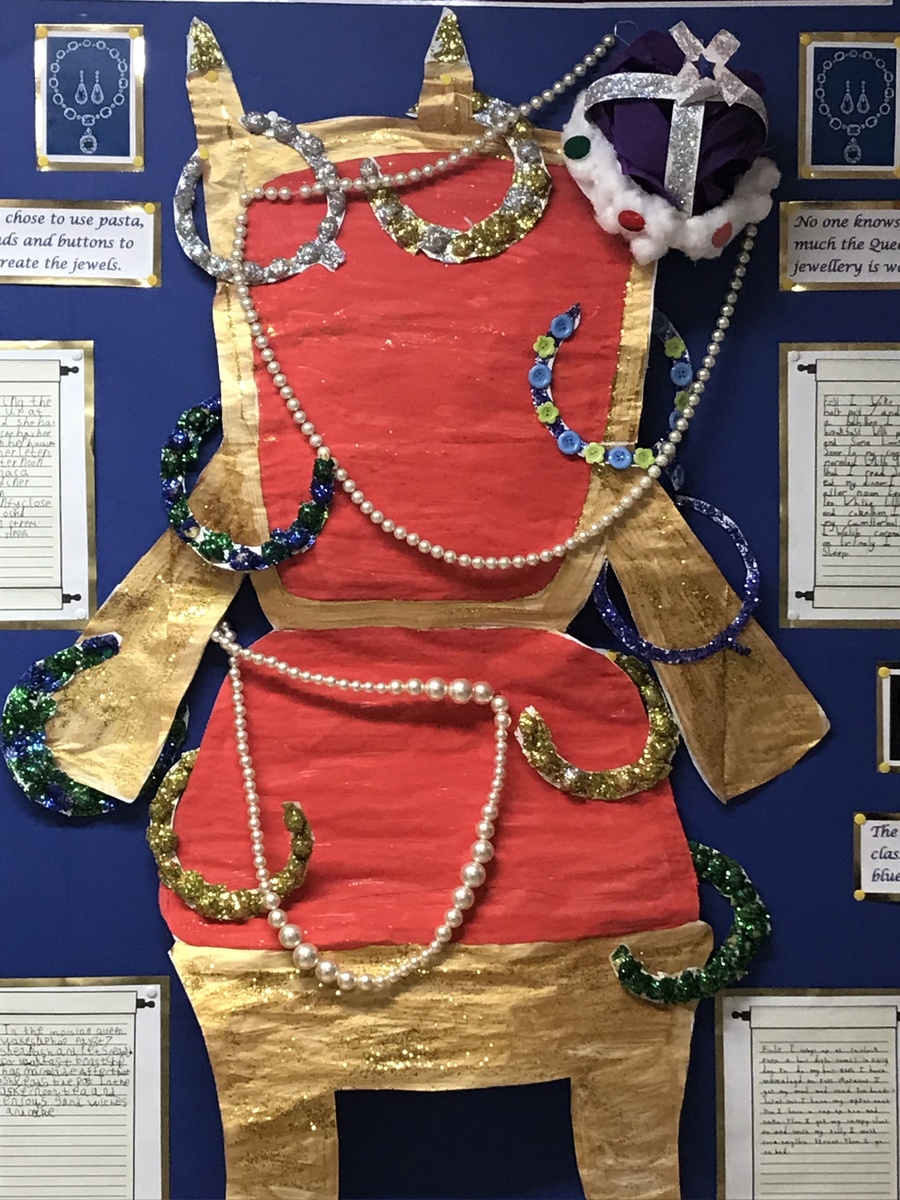 Which necklace would you wear if you were the Queen?
Literacy
Our class author in year 1 is Julia Donaldson. This term we have been reading her popular story 'Room on the Broom'. We even dressed up as witches and wrote a description of the witch in the story!
Changes
In the Autumn term we were learning all about changes within living memory. We read the story 'Peepo' and compared the similarities and differences to now. We also looked at old and new toys. Mrs Carr brought in some of her old toys to show us!
What's your favourite toy?
Welcome!
Welcome back after the summer holidays! For the first two weeks of the term, pine class will be learning all about the history of Newcastle.
During the fortnight, the children learnt all about the story of Newcastle Keep. They also labelled the different parts of a castle.