Hello and welcome to Elm Class!
Teacher: Miss Paxton
Teaching Assistant: Miss Wynn
Welcome to Year 5's class page
Spring term: This term, children will be looking at Greek myths in literacy and topic - specifically the story of Pandora's Box. If you'd like to show your child more myths and legends, there are pleanty of child friendly videos on youtube and the shool library has many stories too. In science, the class will be finding out all about plants and animals and their habitats. The geography will build upon the children's understanding of how we map the Earth and give them a greater insight into cartography and different types of maps. We will also look at mountains, rivers and vegitation belts around the world.
Autumn term: This year, our class author will be Michael Morpurgo and we will be reading and studying Kensuke's Kingdom this half term. In topic we will be having great fun learning all about the history of moving pictures - from flip books to films! You can find out all about how the first films came to be here http://mocomi.com/history-of-movies/. In science, we will be linking our topic work to study light by exploring how light travels and experimenting with various light sources.
Homework reminder:
In Year 5, children will be given one piece of literacy and one piece of maths homework per week, along with a list of spellings to practice. Children will also be expected to read at home at least three times a week, please make a note of this in reading records. If your child reads independently they can fill in their own record.
Homework will be given every Friday to be completed by the following Wednesday. Spelling tests will be on the following Friday. In addition to this homework, children are expected to bring their home reading book to school everyday for in class reading and to achieve 1000 points on Mathletics by each Friday.
Thank you, Miss Paxton.
Useful links:
Mathletics (log ins in reading records): https://community.mathletics.com/signin/#/student
Year 3/4 spelling list: http://ludgvan.cornwall.sch.uk/wp-content/uploads/2017/01/year-3-4-spellings.pdf
Year 5/6 spelling list: http://ludgvan.cornwall.sch.uk/wp-content/uploads/2017/01/Word-list-5-and-6.pdf
Fun videos about anything and everything that we cover in science and geography: https://www.youtube.com/user/crashcoursekids
Merry Christmas and a Happy New Year from Year 5!
The whole school had great fun at the Christmas Music Workshop and Year 5 had some very important jobs!
Beautiful!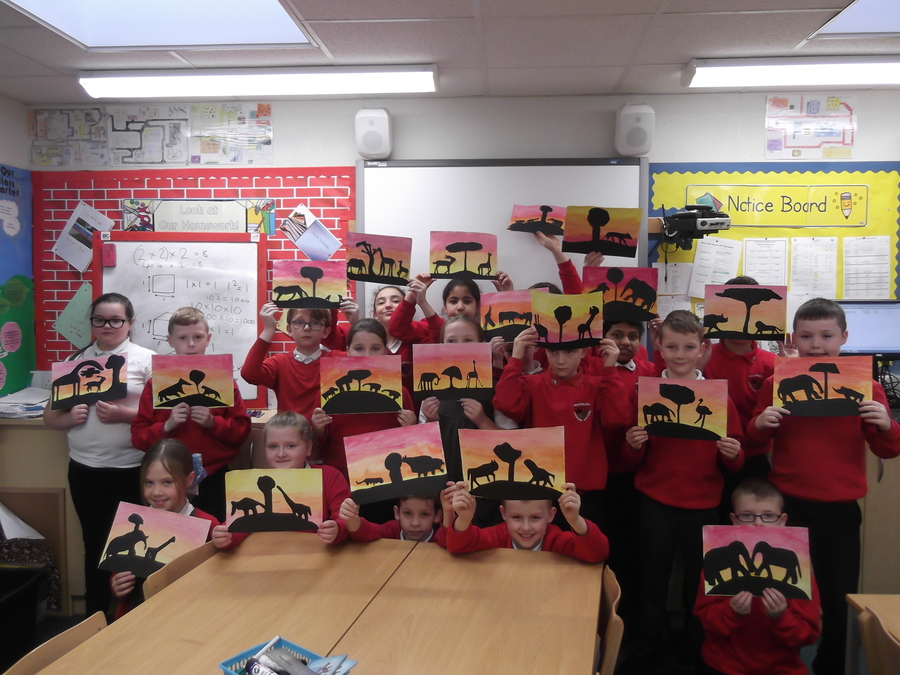 Today we designed our own film posters in the style of famous drawn film posters. Check out the awesome artwork!
We had a fabulous time at the Roman Fort in South Shields!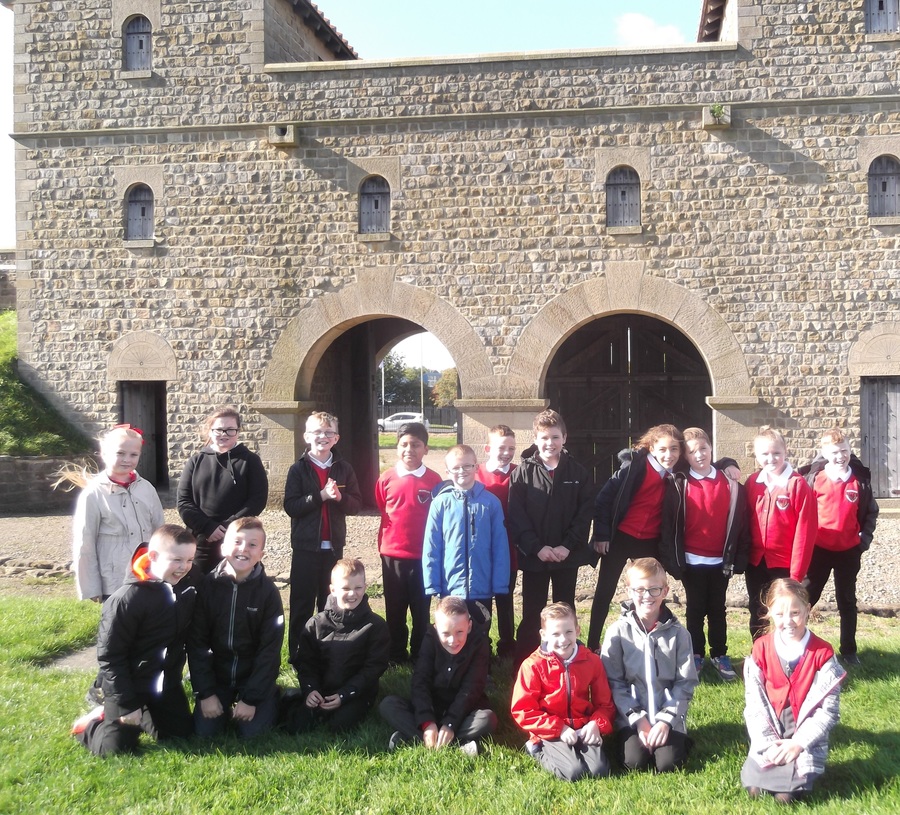 What a great start to the year - we found out lots about South Tyneside and South Shields!
Thank you for a great year, good luck in Year 6!
A cheeky peek at Year 5 and 6's show!
Year 5 enjoyed spending their Fiver Challenge earnings on a class party!
The whole school had a great day at Northumberland park, here are Year 5's best bits!
Year 5 made just over £100 by selling hand made crafts in the Fiver Challenge. A huge thank you to special guest George Fouche, parents and children who helped make this possible!
Our first gymnastics lesson - hopefully we'll be less achy next week!
We enjoyed making jokes for Comic Relief and raising money for other children :D
Year 5 had a great time with Newcastle Eagles, taking part in a multi-school basketball tournament. The whole class tried their best and we won ten matches!
Breaking news! Year 5 have discovered ancient Aboriginal art!
Happy World Book Day!
Have a look at the fun activities that we've done today...
Aboriginal Art
We made Aboriginal art using pointillism techniques to start off our Australia topic. It was very tricky and we had to paint carefully and precisely.
The class had great fun today writing recipes for Anglo-Saxon biscuits - and actually making them was fun too!
Year 5 have had fun over the last week planning and creating a Greek Myth in the style of a comic book!
We really enjoyed learning all about the Anglo-Saxons at Bede's World!
Today Year 5 explored our solar system! Can you come up with a fun way to help your child remember the order of the planets?
Merry Christmas and a Happy New Year, from Elm class!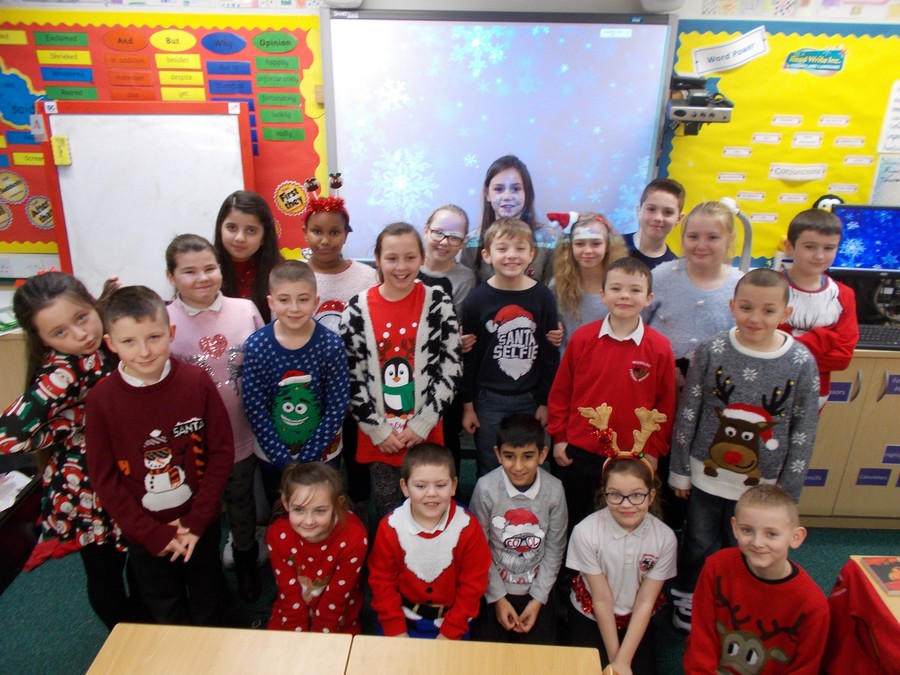 Year 5 have been having fun learning all about reversible and irreversible changes. We enjoyed the glowstick experiment, but the chocolate button test we the best for tasty reasons.
Year 5 visited our Snowdog in the Sage! Can you spot it?
We had fun finding other dogs around Gateshead too. Which one is you favourite?
As part of being a Rights Respecting School, the children have learned all about needs and wants. We had fun debating why designer clothes were a want not a need and had some really emotive discussion around what it's like to not have a need. See what we got up to: