Ofsted Celebrations!
Ofsted Celebrations!
23 June 2016 (by Dawn Huggins (admin))
To celebrate our Outstanding report, the children had a balloon race! We also invited a reporter from the Evening Chronicle to visit our wonderful school and then we had a party! Well done everyone! Click here to read the Evening Chronicle's report!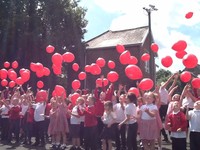 .