Mathematics
At Brandling Primary School we aim:
To promote enjoyment and enthusiasm for learning through practical activity, exploration and discussion

To develop a positive attitude towards mathematics and an awareness/ enjoyment of the subject

To develop competence and confidence in mathematical knowledge, concepts and skills

To develop an ability to solve problems, to reason, to think logically and to work systematically and accurately

To use initiative and an ability to work both independently and in cooperation with others

To develop an ability to communicate mathematics using appropriate vocabulary

To develop an ability to use and apply mathematics across the curriculum and in real life contexts

To have an understanding of mathematics through the process of enquiry and experiment

To develop a thorough knowledge and understanding of numbers and the number system

To develop the ability to solve problems through decision-making and reasoning in a range of contexts

To develop a practical understanding of the ways in which information is gathered and presented

To explore features of shape and space, and develop measuring skills in a range of contexts

To understand the importance of mathematical skills in everyday life
Teaching & Learning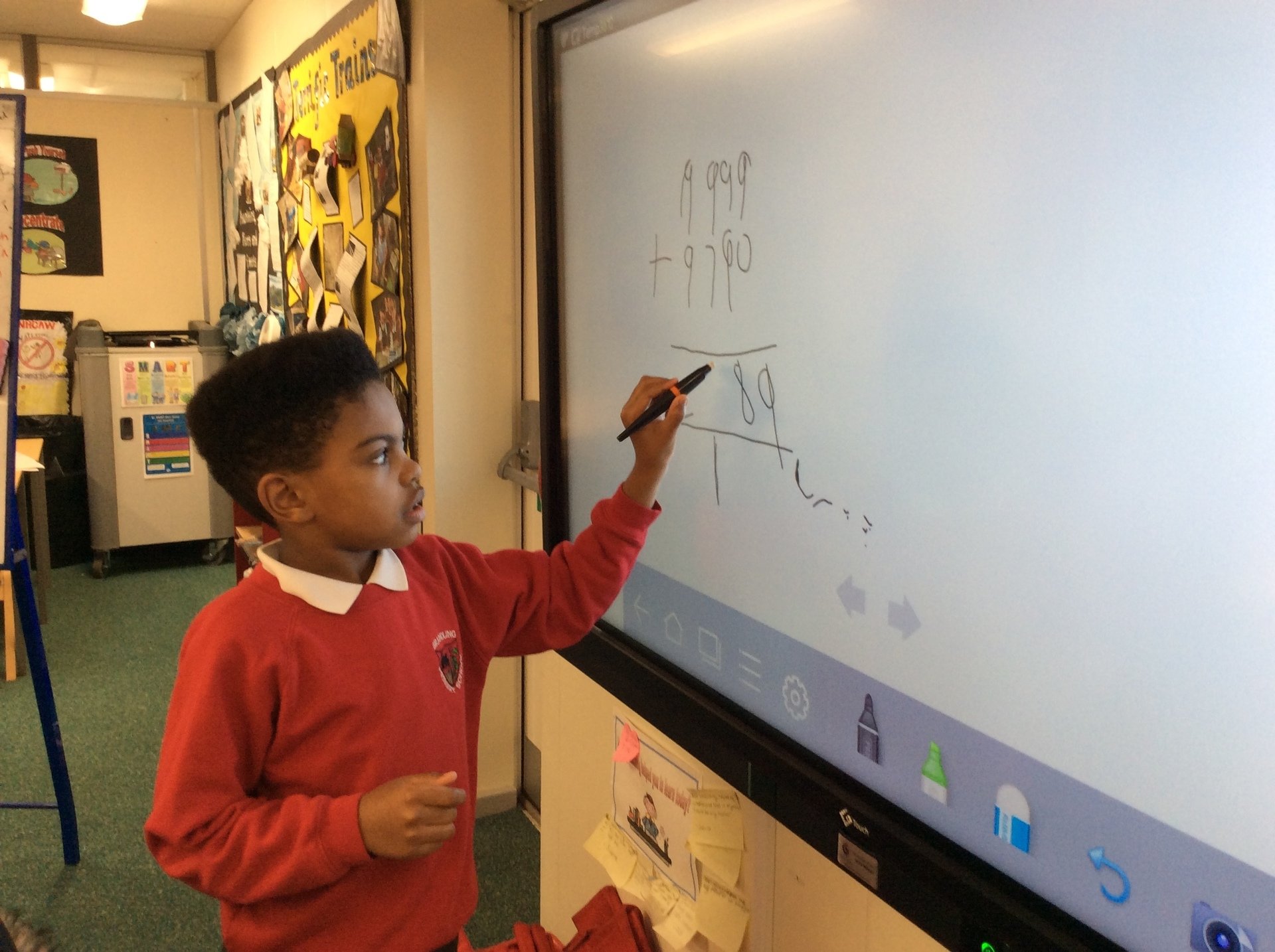 We aim to use a wide variety of teaching and learning styles in our mathematics lessons. Our principal aim is to develop children's knowledge, skills and understanding. Through careful planning, preparation and assessment, we aim to ensure that throughout the school children are given opportunities for:
Practical activities and mathematical games

Problem solving and investigative tasks

Individual, group and whole class discussions and activities

Open and closed tasks

A range of methods of calculating eg. mental, pencil and paper jottings and using a calculator

Using ICT as a mathematical tool, and to assist with modelling ideas and methods

Using a wide range of resources and small apparatus to support their learning

Using and applying their learning in everyday situations

Constructive feedback from staff/ pupils to focus them on success and areas for improvement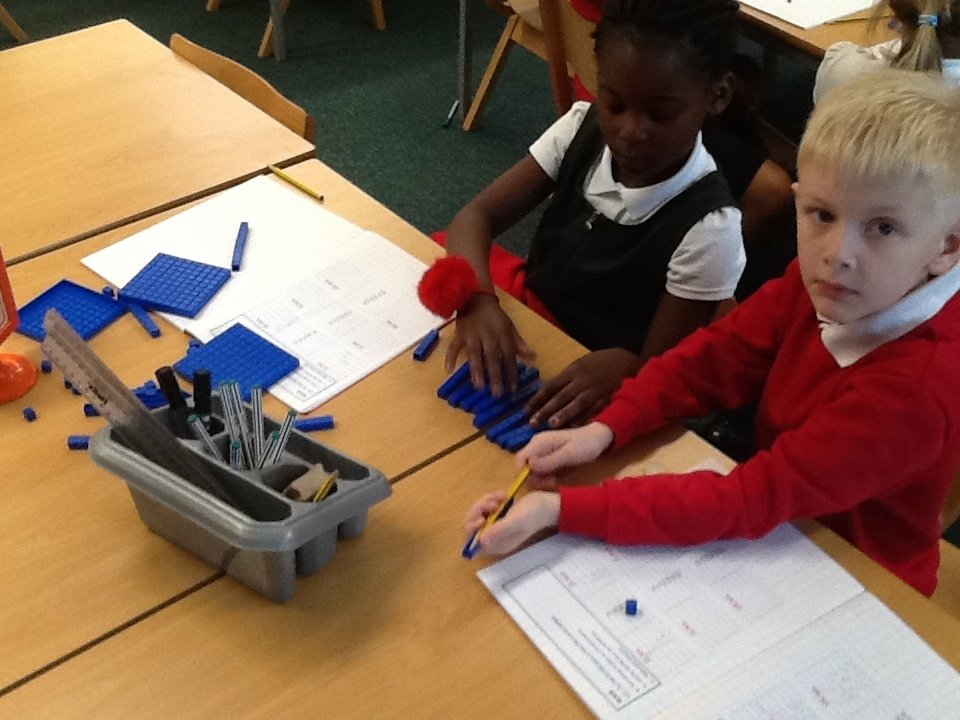 Co-operative Learning
In all classes there are children of differing mathematical ability. We recognise this fact and provide suitable learning opportunities for all children so each child is given the same opportunity to learn and progress. Through a cooperative approach to maths all children work together in pairs and teams to complete tasks.
BAD Teaching and Learning
Staff are fully aware of the diverse needs of the children in each class and pair children accordingly. Staff using BAD (Basic, Advancing, Deep) teaching to ensure all children are challenged at an appropriate level in each lesson. A lesson begins with a basic task with all children tackling this, generally in a whole class situation. This will progress to an advancing task where children will continue to work in mixed ability pairs to tackle a task which they need to master before progressing. Teachers work with a focus group but also continue to monitor other children in the class. The role of the Teaching Assistant is to support children who find the basic or advancing task difficult. The deep task is for those children who have shown that they have mastered the advancing task and are ready to tackle a task at greater depth.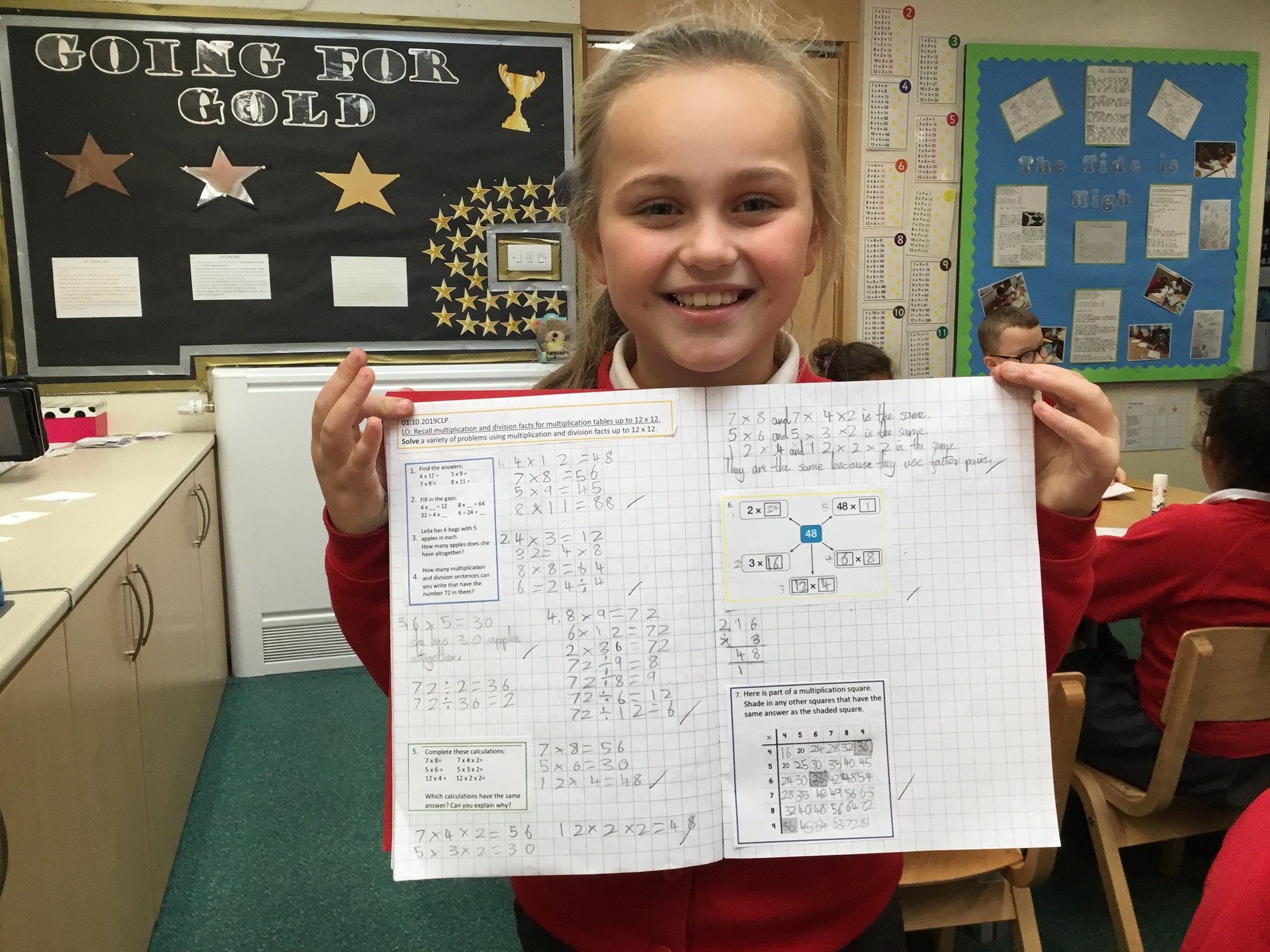 Children are set homework tasks in order to strengthen their learning in mathematics. This task directly links with the current focus of learning and is aimed at mastering subjects within maths.
Maths Mastery
Brandling joined the Great North Maths Hub in September 2017. Working in partnership with other primary schools as part of the Great North Maths Hub as well as Mastery Specialists has allowed us to create our own Mastery Specialists within school and develop our curriculum significantly focusing on 'The Big Five Ideas' of Variation, Fluency, Mathematical Thinking, Representation and Structure, and Making Connections.
A Mastery Curriculum
An expectation that all pupils can and will achieve.

The large majority of pupils progress through the curriculum at the same pace. Differentiation emphasises deep knowledge and individual support/intervention.

Teaching is underpinned by methodical curriculum design, with units of work which focus in depth on key topics. Lessons and resources are crafted carefully to foster deep conceptual and procedural knowledge.

Practice and consolidation play a central role. Well designed variation builds fluency and understanding of underlying mathematical concepts in tandem.

Teachers use precise questioning to check procedural and conceptual knowledge. They assess in lessons to identify who needs intervention so all pupils keep up.

A mastery curriculum often involves whole class teaching, with all pupils being taught the same concepts at the same time.
Parent Support Packs can be accessed by clicking here.
Teaching Planning and Organisation
Mathematics is a core subject in the National Curriculum. We use the new White Rose Framework as the basis for implementing the statutory requirements of the programme of study for mathematics. Each class teacher is responsible for the mathematics in their class in consultation with the guidance from the mathematics coordinator.
Teachers in EYFS base their teaching on the Early Years Curriculum, of which Maths is a specific strand. They ensure that pupils are developing towards 'Early Learning Goals for Mathematical Development.' Towards the end of Reception, teachers aim to develop children's mathematical understanding to prepare them for the transition into Year 1.
The White Rose Framework for Teaching Maths gives a detailed outline of what we teach in the long term, showing clear progression over their entire primary school education, while our yearly teaching programme identifies the key objectives in mathematics that we teach in each year.
In maths we have a focus on the basic skills and reasoning, number, calculation and problems. Where possible we try to link shape and space objectives to topic areas. Where possible we try to block these objectives in short periods to ensure the focus on calculation and number is maintained.
It is the class teacher who completes the weekly plans for the teaching of mathematics. These weekly plans list the specific learning objectives for each lesson and give details of how the lessons are to be taught. The class teacher keeps these individual plans, and the head teacher and subject leader can discuss these on an informal basis.
The approach to the teaching of mathematics within the school is based on the following key principles:
A mathematics lesson- daily

A clear focus on direct, instructional teaching and interactive oral work with the whole class and group

Snappy maths – A 30 minute daily lesson This can focus on developing independent skills and consolidating previously taught objectives, pre-teaching up coming content, developing fluency through rapid recall and a problem of the day.

Intervention Programmes (Success@Arithmetic, First Class at Number 2, Teacher directed learning objectives) for identified groups/ individuals to support learning and address misconceptions
Lessons are planned using a common planning format and are collected and monitored by the Head Teacher/ Mathematics Coordinator.
Teacher Research Groups
As of September 2017 TRG's were formed across the school. These groups meet fortnightly to plan, discuss and evaluate maths. They are led by teachers who are working as part of the Maths Hub. The aim of the groups is to allow teachers to reflect on prior teaching and learning, share successes and difficulties, plan next steps and share resources.
Times Tables Rockstars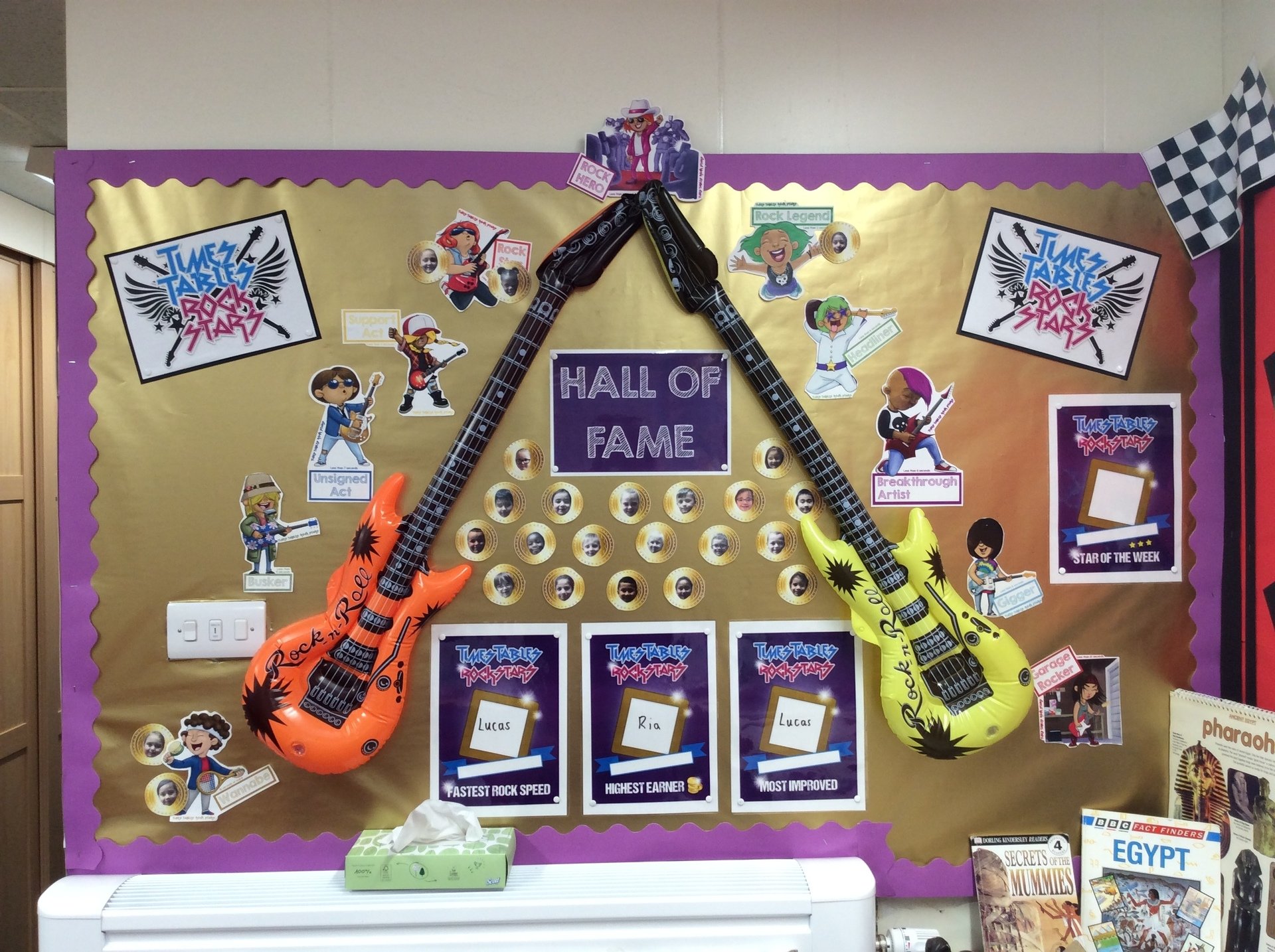 TT Rockstars was introduced in September 2018. The programme allows all children in school from Year 1 up to Year 6 access to times tables games and tests. Weekly TT Rockstars assemblies are held in school where children compete for awards. The programme is fantastic preparation for the Year 4 Times Tables tests which are being introduced next year. More importantly, it is developing a secure knowledge of fundamentally vital facts to a child's mathematical development.
Rapid Recall
At Brandling we have developed a Rapid Recall system in maths from Reception up to Year 6 to develop fluency. The national curriculum objectives for each year have been developed into a Bronze, Silver and Gold reward system. All children are given their objectives for each stage at the beginning of the academic year. These are referred to regularly and the children have regular tests to try and achieve a Bronze, Silver or Gold badge. Once achieved these badges are worn with pride by the children. The aim of the system is to develop fluency, confidence and raise achievement.
Look at some of the fantastic evidence and impact in maths by clicking here